Since spring we've been working on the new Find Your Feel membership, and now we're finally "ready to roll"!
This membership is all about YOU as a trainer and horseman.
'cause when it comes to training your horse it's not enough to know a lot about horses and applying the right training techniques.
It's not whát you do that has the most impact on your horse. It's hów you do it.
How you think, how you act, how you move, how you breathe & how you feel hugely impacts how your horse thinks, acts, moves, breathes and feels.
The well-being of your horse, the relationship with your horse, the training results you achieve, they are all directly or indirectly the consequence of how you show up with your horse every time again.
Can you understand why it's crucial to be at your best when training your horse?
That you're balanced on every level of your life (also in your daily life without your horse!)?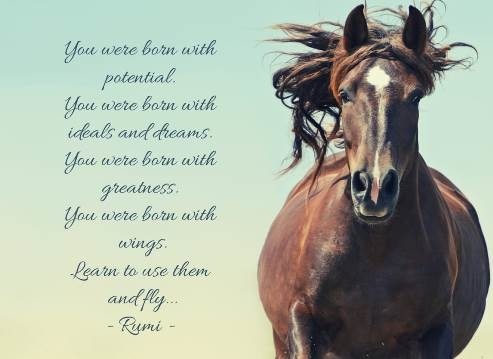 And that the more feel you can put into the handling and training of your horse, the deeper the connection will be and the more successfull the training will be as well?
That's why I started this Find Your Feel membership.
This membership is all about self-development for horse owners and trainers.
It's all about evolving on the level of body, mind, heart, and soul.
So you awaken your full horsemanship potential and start living your horse life to the fullest!
https://programs.horsefulnesstraining.com/find-your-feel-join-now/
As a Find Your Feel member
you'll receive a new masterclass every month, to implement immediately + a Q&A webinar.
Also, 4 times a year an invitation to attend an online Connection Circle.  That's an online workshop with me, where we dive into a certain topic and implement immediately what you learn.
Registration is now open and until Wednesday 7th you can lock in a low monthly price, for as long as you stay subscribed. After this launch period, the price will increase by 60% and will never go down again.
There are 2 options to choose from: becoming a Basic Member, or Full Experience Member.
You are not tied to anything, you can stop your membership every month.
To find out what we'll be covering, jump in the saddle and canter all the way up to:
https://programs.horsefulnesstraining.com/find-your-feel-join-now
— Karine